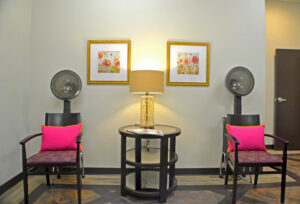 My sister was in a skilled nursing facility/hospice for the last several years in Los Angeles, California.
When I went to visit her in California I could not believe the type of attention she was receiving in Los Angeles… and was worried about her passing. I came back to Las Vegas and  spoke to several people on what  Skilled nursing facility they would suggest for my sister. All four people that I spoke with all suggested the same facility…. Spanish Hills Wellness Suites.
I went over to Spanish Hills Wellness Suites and introduced myself to the Administrator by the name of Mr. Marc Behn, who then listened to the struggles I was having with my sister and worrying about her passing and he suggested he would look into the situation and see if he could be of help. He took the time to listen to the grief I was having and the health issues my sister was suffering from, and clearly indicated he could be of help as well as his facility. Thereafter Mr. Behn then introduced me to his director of admissions by the name of Jessica Perez. It took Miss Perez almost 3 weeks with the help of  Mr. Behn to facilitate the move from California to Spanish Hills Wellness.
Thank god for both Mr. Behn and Miss Perez for my sister is starting to recover from both her health issues, and mental clarity!! Thanks to Mark Behn, Miss Jessica Perez / nurses, and the entire staff at Spanish Hills Wellness. It's a miracle!
Jack Z.