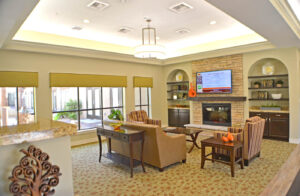 I am a patient here at Spanish hills wellness suites my situation is that I was hit by a car ran over and left for dead I was taken to sunrise hospital where I spent a week where I had surgery done then from there taken to encompass rehabilitation center where I spent four weeks there receiving three hours of physical therapy five days a week then I was transferred here to Spanish hills wellness suites where I have now been for another four weeks. what has helped me get to the point that I am now is the care from some of the staff members who get up every morning and come to work and give it their best. even though they deal with patients who are sometimes good and that are sometimes bad. these staff members deal with all different types of attitudes on a daily basis yet somehow or another they still try to give their patients the best care they possibly can. these staff members go beyond the training they received in school. the kind of care that they show is only the kind of care you receive from human kindness. they believe in what they do, they truly enjoy what they do, and they want to see their patients get well.
I have had a chance to explore this facility and from, what I have seen it is pretty amazing. they are fully equipped with the things they need to help their patients achieve their goals, which is to get well and come back to society. I had mixed feelings when I first came to this nursing home because I lost my dad in one of these places to. Covid in the year 2020, but after being here for the short time I have been here I have seen firsthand that there are truly people here that really care and I. am grateful to Spanish hills for accepting me and for helping me get my life back and get my body back into the shape it needs to be. so, I would say that for those out there who I hope never have to go through something like this meet a place where you can be shown the kind of love and care that you would want to be given then Spanish hills is your place. now don't get me wrong like I said the people that work here are human being and as human beings we don't always get things right all the time and unfortunately sometimes some patients may not always get what they need but overall from what I as a patient myself has witnessed the staff here do the best they can and that's all that any of us can ask for.
That's the reason why I as a patient right now am at the top of the world, because I am getting discharged at the 29th of this month. I reached my goal which was to be gone by the end of this month. this on my part took determination and motivation and as a patient if you had that then there's nothing that can stop you.
Rodney G.