Success Story – June – Ann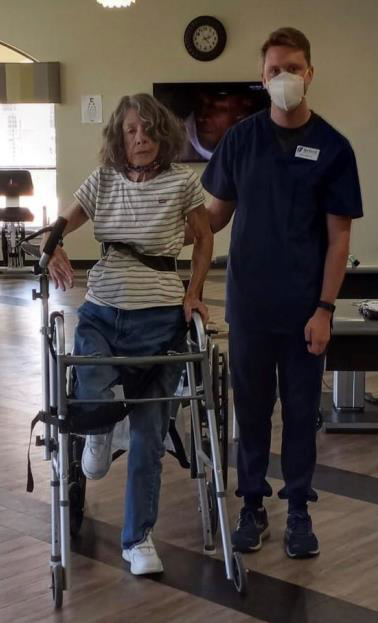 Ann was admitted to Spanish Hills a year ago after suffering a stroke that impacted the right side of her body, leaving her unable to control her arm or leg. Unable to safely return home she became a long-term resident at the facility. At the time of her stroke, she was devastated and not motivated to work with therapy, but that recently changed when she came down to the gym and said I'm ready to get better now. Consulting with our Physical Therapist she was reevaluated, and a unique plan of care was set up to work towards her most important goal, to walk again. After improving her strength, standing balance, and endurance on one leg, the therapy team began challenging Ann with balancing her affected leg on a knee scooter and soon after created a customized walker with knee sling and arm support to begin gait training. She has since achieved walking more than 40ft and can also steer her walker around obstacles, completely unassisted.
Ann is truly a great success story, proving with determination and hard work anything is possible. She has been a great inspiration to all those around her.